Gig Harbor High School students hit all the right notes for country singing competition
BY JOAN CRONK
Special to the Gateway (Tacoma News Tribune)
NOVEMBER 16, 2017 03:15 PM
UPDATED NOVEMBER 20, 2017 12:59 PM
High school students throughout the state of Washington have a unique opportunity to participate in the Washington State Nashville Country Star (WNCS) singing competition and through that experience gain confidence and, as a bonus, qualify for prize money.
The WNCS singing competition, founded by Ed Lisenbey, formerly of Okanogan, began its 13th year in January. The winner of the competition is awarded a cash prize of $1,500 and other finalists can earn cash awards as well.
The contest is open to any student enrolled in any Washington state high school, including home-schooled students in grades nine to 12.
Gig Harbor High School student April Lawson was convinced to try out during WNCS's spring singing contest after seeing changes in fellow singer Arthur Keast, according to her mother, Danielle.
"In one year, (Arthur's) performance and singing ability grew tenfold," Danielle said.
"Seeing the difference in Arthur convinced April to try out. Since then she has learned stage presence, execution of lyrics, musicality and has gained such confidence in this ability," she said.
Rumi Keast, Arthur's mother, said his participation in the contests has been extremely positive.
"Arthur has been inspired and motivated by his fellow contestants with great stage presence," Keast said.
A lot of the credit for GHHS students excelling in their music ability goes to Wayne Lackman, who teaches choral music at GHHS, and Allison Ellis of Peninsula High School.
"I work with such talented students. They make me look good," said Lackman, who also heads up the Gig Harbor High School Meistersingers choir.
Lackman and the students perform throughout the community on a regular basis.
"What is so cool is we go out in the community and perform and unless you have a connection to a teenager, you believe (negative stories about teens) you read in the paper," he said. "They are just excellent kids and it gives me faith in the future. You know the future will be in good hands."
The public will have a unique opportunity to hear talented high school students perform in the Stellar High School Singers Show at 7 p.m. Friday (Nov. 17) at Chapel Hill Presbyterian Church, 7700 Skansie Avenue. Tickets are $8 and can be purchased at the door.
Featured singers will be 2015 WNCS champion Dakota Newman, Arthur Keast, April Lawson, Paige Lawson, Audrey Collins and Jessa Moomaw, as well as guest high school singers from the area.
WNCS contacts 350 high schools in Washington state and travels long distances to conduct rounds of auditions with millions of tedious tasks associated with the contest.
"Getting opportunities to sing with these excellent high school singers on the same stage is the result of their enormous efforts," she said.
Through this experience, Arthur has learned more about genres of music and has become a real fan of the oldies.
Arthur competed in the WNCS contest during his sophomore year.
"It boosted my confidence because you have to perform in front of people, and I wasn't used to that," he said.
Gig Harbor High students Paige Lawson, Moomaw and Keast each received a finalist award in 2017, and April Lawson was awarded the spirit award in the semifinals.
No school has had four award winners since Washington Nashville became a statewide contest in 2010, Rumi said.
For his part, Lackman says the singers are incredibly talented.
"They are just really good people. These are the type of people I would love to have my kids hang out with," he said. "There are days I can't believe I get paid for what I do."
Washington Nashville has awarded more than $74,000 to student singers to date.
"Gig Harbor has a unique environment to foster solo high school singers," Rumi said.
More information about Washington Nashville Country Star can be found at
wanashvillecountrystar.org.
JANUARY 2018
Recording albums: Dakota Neuman - 2015 champion, Riley Hardy - 2017 champion, 2012 runner


up, Maile Gagner- Kraft, Jessa Jacoy, 2012 contestant - all have or are working on recording albums!
Jaimee Keenan from Curlew is another fan favorite. Jaimee has a lot of spunk & a great personality. Her stage presence is spot on! Jaimee was in our competition for three years & won the Championship is 2016. After graduation, Jaimee headed to Nashville, TN in September or October. She is currently working at the Grand Ole Opry.
Dakota Neuman participated in Washington State Nashville Country Star his senior year & won the 2015 Championship. Dakota has a great personality & loves to sing. Dakota has written & recorded some of his original songs. Dakota is currently living in Hendersonville, Tennessee near Nashville. He has two jobs, one of which is at the Grand Ole Opry! He's living his dream & we wish him the very best! Dakota will open for Colin Ray in May He will also open for him at a show in late August..
http://www.dakotaneuman.com/
In Maile's senior year of high school she competed in the Washington State Nashville Country Star competition and took second place. Since then, she has always stayed involved by volunteering and sharing her talent to help raise money for our program. Maile Mae believes all kids who have the passion for music should have the opportunity to perform. Maile & her band are busy performing all over the State of Washington. Read more about her at her Facebook music page. 2018 Maile will be taking a trip to Nashville soon...let's hope her paths cross with the right people!
Maile Mae
Audre Belt - American Honey band are located in the Yakima area, but play wherever their gigs take them. Audre has been a great supporter of Washington State Nashville Country Star since she was in the competition. She is a fan favorite & we love having her host & guest sing at our competitions & fundraisers. We wish the best for Audre & the American Honey band!
2018 Audre is as busy as ever. She plays somewhere almost ever night with the band. She also has opened her own salon in Yakima:
salonbeyoutifulyakima.com

https://www.facebook.com/americanhoneytheband/
In May of 2013, seven out of ten contestants who sang at the Texaco Country Showdown, in Wenatchee, during Apple Blossom were past & current contestants from our competition! Audre Belt, Drew Jaeger, Charlie Green, Maribeth Briskey, Samantha Culp, Allie Burgett. Jessica Jacoy & Jimmy Charles also tried out at other venues in the State.
Charlie, from Vancouver, WA, won the Wenatchee competition. Audre Belt, from Ellensburg, won the Yakima competition, & Jessica Jacoy won a competition on the West side. By winning these competitions it allowed them to perform, in August 2013, at the State Competition at the Clark County Fair near Vancouver, WA. The winner from that competition moved onto the Regional Competition. CONGRATULATIONS TO ALL OF YOU!! YOU MAKE US ALL PROUD!!!!!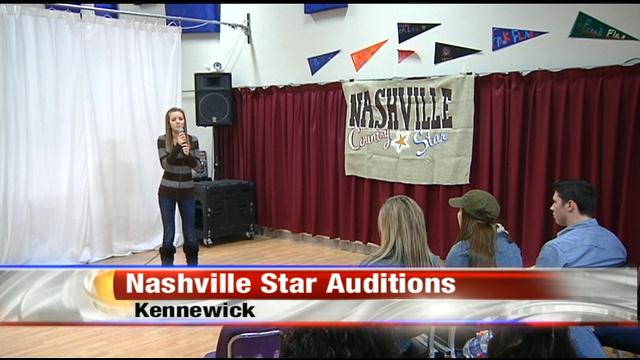 The mother of a past contestant sent us an AWESOME email today. Chase Hubbard was a contestant in 2006, our second year & before we opened our competition to the whole state. Chase, as he is being called in the "business" has signed a three CD album record deal. Check out Chase's site for his single download & more! He also has a Facebook page, so look him up!! Congratulations Chase!!
http://www.chasecountry.com/