Jaimee Keenan from Curlew is another fan favorite. Jaimee has a lot of spunk & a great personality. Her stage presence is spot on! Jaimee was in our competition for three years & won the Championship is 2016. After graduation, Jaimee headed to Nashville, TN in September or October. She is currently working at the Grand Ole Opry.
Dakota Neuman participated in Washington State Nashville Country Star his senior year & won the 2015 Championship. Dakota has a great personality & loves to sing. Dakota has written & recorded some of his original songs. Dakota is currently living in Hendersonville, Tennessee near Nashville. He has two jobs, one of which is at the Grand Ole Opry! He's living his dream & we wish him the very best! Dakota will open for Colin Ray in May.
http://www.dakotaneuman.com/
In Maile's senior year of high school she competed in the Washington State Nashville Country Star competition and took second place. Since then, she has always stayed involved by volunteering and sharing her talent to help raise money for our program. Maile Mae believes all kids who have the passion for music should have the opportunity to perform. Maile & her band are busy performing all over the State of Washington. Read more about her at her Facebook music page.
Maile Mae
Audre Belt - American Honey band are located in the Yakima area, but play wherever their gigs take them. Audre has been a great supporter of Washington State Nashville Country Star since she was in the competition. She is a fan favorite & we love having her host & guest sing at our competitions & fundraisers. We wish the best for Audre & the American Honey band!

https://www.facebook.com/americanhoneytheband/
In May of 2013, seven out of ten contestants who sang at the Texaco Country Showdown, in Wenatchee, during Apple Blossom were past & current contestants from our competition! Audre Belt, Drew Jaeger, Charlie Green, Maribeth Briskey, Samantha Culp, Allie Burgett. Jessica Jacoy & Jimmy Charles also tried out at other venues in the State.
Charlie, from Vancouver, WA, won the Wenatchee competition. Audre Belt, from Ellensburg, won the Yakima competition, & Jessica Jacoy won a competition on the West side. By winning these competitions it allowed them to perform, in August 2013, at the State Competition at the Clark County Fair near Vancouver, WA. The winner from that competition moved onto the Regional Competition. CONGRATULATIONS TO ALL OF YOU!! YOU MAKE US ALL PROUD!!!!!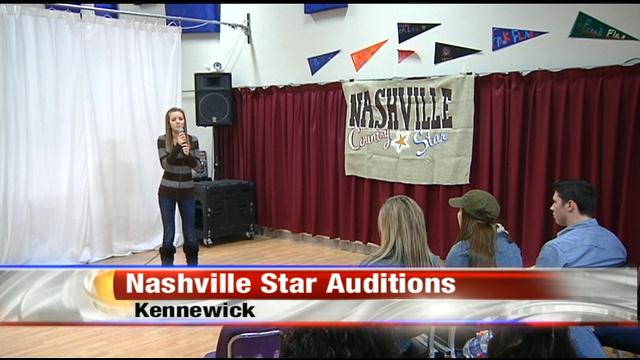 KENNEWICK, Wash.-- Aspiring singers auditioned Saturday at the Kennewick Boys and Girls Club for their chance at joining the The Washington State Nashville Star Competition.
Contestants sang a country song for the judges panel.
The competition is open to high school students and organizers say every year around 250 teens try out.
"It's a varied response from the kids but for some of them it's a life changing experience. You can see their confidence grow not only with performing," said Ed Lisenbey, Washington State Nashville Star Competition creator.
Fifteen contestants will perform at the finals on March 30th at the Omak Performing Arts Center.
The winner will receive a grand prize of $1,500.
Pictured singing is Emma Moe from Southridge High School - Kennewick
The mother of a past contestant sent us an AWESOME email today. Chase Hubbard was a contestant in 2006, our second year & before we opened our competition to the whole state. Chase, as he is being called in the "business" has signed a three CD album record deal. Check out Chase's site for his single download & more! He also has a Facebook page, so look him up!!Congratulations Chase!! http://www.chasecountry.com/